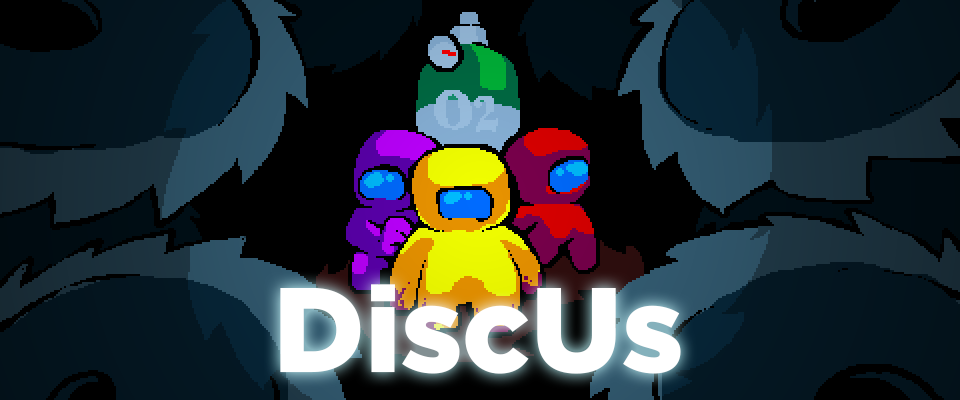 Disc Us
Now also available on Google Play for FREE! https://play.google.com/store/apps/details?id=com.keybol.discus

Version 2.0: Complete rebuild of the Disc Room Game Jam game. Please send bug reports to our Discord!
--> https://discord.com/invite/bzaay8B
Thank you everyone and Itch.io! We've won in the top 10 of Devolver Digital's Disc Room Game Jam! We won the entire library of Devolver Digital and their future games!

As a thank you, I'm working on the game from the ground up. Addressing the issue of disconnecting players. Please follow my tweet thread for updates.

https://twitter.com/keybol/status/1328856821604315136?s=20
DANGER! DANGER!

Oxygen level......10%

Gather all the oxygen tanks, avoid deadly discs.

Disc Us is an online multiplayer game where you need to work together to survive.
RULES
If you are assigned as Traitor Disc you must do everything that you can to stop other players from completing their tasks.
You can move Oxygen Tanks away from the Oxygen Floor and/or hide them.
You can kill them repeatedly by transforming into a disc with SPACEBAR.
You can move Orbs away from the room their in.
Make it more difficult for them. But avoid getting caught or giving them suspicion.
If you are assigned as Scientists, you must be quick and bring the objects to their proper places.
Orbs go to the top room, Oxygen Hub in the center square floor space. Traitor Discs can still move them out of the floor area though so be cautious when your O2 count goes down.
The trash (banana peel) goes to the trash vents located in every farside/corner rooms.
Orb Pedestals are already in the room where the orbs are. Put them there and it will be secured, Traitor Discs won't be able to take them out.
If you are suspicious of any player or need a timeout, just press the red button in the Center Hub.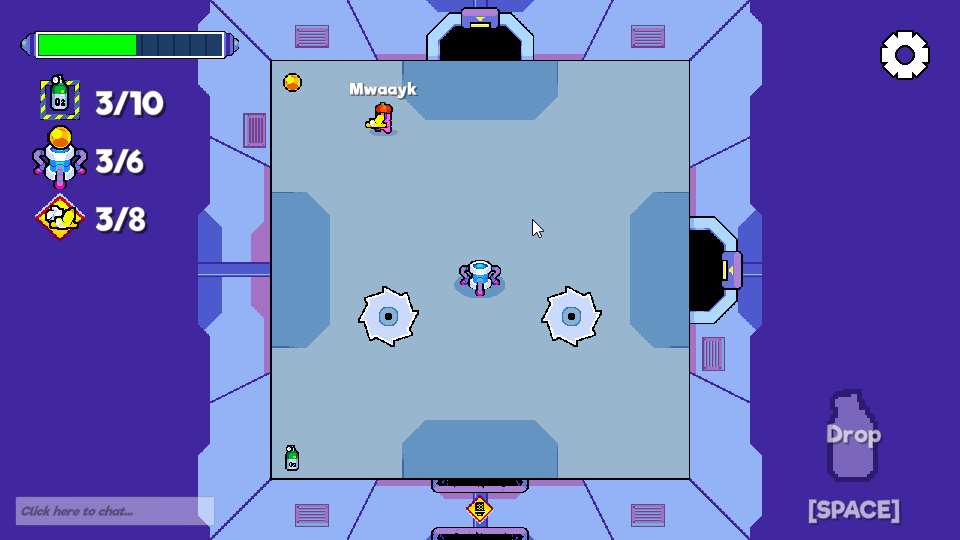 ABOUT Disc Us is our #discroomgamejam entry. Keybol worked on the programming while Mwaayk did the art and animation. We decided to create a multiplayer game like Among Us and added Disc Room's theme and our own spin on this social deduction game.
GAME MECHANICS You are a team of scientists on a mission to fill the chamber with oxygen. You have to find and pick up oxygen tanks and place them in the oxygen hub. You also need to put orbs on pedestals and throw the trash out. The rooms are filled with dangerous discs, avoid them at all cost. Complete all the tasks before oxygens run out and you win the game.
BUT THERE'S A DISC AMONG YOU Up to 3 players can be randomly assigned as traitor discs. A traitor disc can pretend to work like a scientist. They can pick up quest items and put them in a tight spot or hide them. They can move the oxygen tanks out of the hub. They can also transform into a disc and kill you. They will do everything to slow you down. They can use the trash passage to transport to other parts of the room. Find out who the traitor discs are and put anybody you suspect in jail.
In Disc Us, it's not over until the game is over. If you get killed you respawn in the center hub. If you get voted out you can still get back in the game by convincing other players to use the key to open your jail.
Join our Discord! --> https://discord.com/invite/bzaay8B
Code: Keybol Art: Mwaayk SFX: doseone Music: Symmetrical Audio (thanks getdizzy)
| | |
| --- | --- |
| Status | Released |
| Platforms | HTML5 |
| Rating | |
| Authors | mwaayk, keybol |
| Genre | Role Playing, Simulation |
| Made with | Unity |
| Tags | Arcade, Casual, discroomgamejam, Exploration, html5, Multiplayer, Mystery, Pixel Art, Unity |
| Average session | A few minutes |
| Inputs | Keyboard, Mouse |
| Multiplayer | Server-based networked multiplayer |